Scenic Tours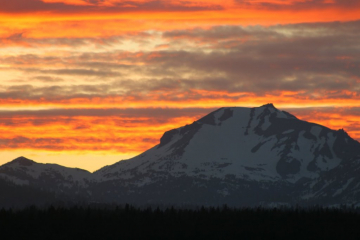 Nature and History combine to make some of the most scenic tours in our area.
Volcanic Legacy Scenic Byway
The southern end of the Volcanic Legacy Scenic Byway begins at Lake Almanor, just miles from the active geothermal features at Lassen Volcanic National Park. The northern end of the byway is capped by Crater Lake National Park in Oregon.  In between are 500 miles of adventure, exploration and communion with nature. For more information go to VolcanicLegacyByway.org.
Lake Almanor Recreation Trail – West Shore
The Lake Almanor Recreation Trail runs 9.5 miles along the southwest shore of Lake Almanor. It offers scenic views of the lake and mountains, including Lassen Peak and runs in and out along beautiful meadows, forest and shoreline. The trail is multi-use inviting walkers, joggers and biking. During winter the trail is ideal for cross-country skiing and snowshoeing. From Chester go 2 miles southwest on State Route 36 and turn south on SR 89. There are several access points to the trail along the highway, the Almanor boat ramp parking lot (near the Almanor North campground) and 4 other parking areas along Almanor West Drive near the community of Prattville.
"Park 40" Collins Self Guided Interpretive Trail
This is a self-guided interpretive tour of Collins Forest which lies about 5 miles west of Chester. To obtain a pdf of the Interpretive Guide Click Here.  To get to the Park 40 area go to the intersection of Highways 36 and 89 and can set your trip odometers to zero. Proceed west on Highway 36 for 5.1 miles to the roadway summit and then turn into the small, unpaved parking area on the north side of the road. For those using GPS, the parking lot is at latitude 40 15.60' North, Longitude 121 20.33' West at an elevation of about 5,000 feet."
Collins Pine Nature Trail – Chester
Collins Pine also has a Nature Trail that starts at the West end of Chester Park.  It makes two loops through about fifty acres of second growth woodland with mixed evergreen and deciduous trees, grassy flood plain, channels and beaver ponds. The far end of the trail is six tenths of a mile from the park. There are four benches at places along the trail, and twelve numbered points at sites of special interest. A Points of Interest guide is available at the Collins Pine Museum.
Worldmaker's Trail 
Worldmaker's Trail is an ancient trail of the Mountain Maidu. The tour is designed to start in Quincy or Susanville and follows Highways 70 and 89 through Indidan Valley, turns on Hwy 147 at the south end of Lake Almanor, then on to Hwy 36 to Susanville. It is 67 miles long and takes about 2 hours to drive. There are several walks and side tours along the way. Obtain a pdf of the map and brochure at PlumasCounty.org
Historic Greenville Walking Tour
Take a walking and shopping tour along Greenville's historic Main Street. The Tour takes a look back to the town's gold rush origins.
The four block, round-trip tour encompasses 21 historic buildings, some of which maintain architecture and artifacts dating back to the late 1800s. The sites, which now house a range of modern-day businesses, are each designated with signs and historical photographs to accompany the map and brochure. Copies are available at Sterling Sage, 213 Main St., Greenville.
Additional Plumas County Tours
For additional tours spanning Plumas County go to PlumasCounty.org