Museums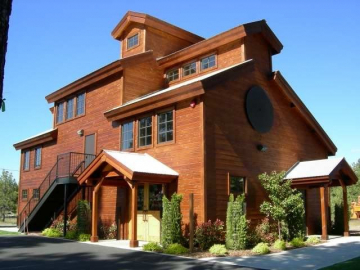 There are ten museums across Plumas County. Four can be found within easy driving distance around Lake Almanor and Indian Valley.
Chester Museum
210 First Avenue. Free Admision. Call for times 530-258-2742.
The log building containing the Chester Museum and the Chester Library was built in 1929. One of the main attractions of the museum is a photographic history of the Lake Almanor Basin. Here you will find vintage photos of dairy farming, early days logging, gold mining and even early-day tourist activities. The museum contains a fine collection of Maidu Indian basketry and artifacts that represent the intricate handwork produced by Plumas County's first inhabitants.Outside the building, along the North Fork of the Feather River you will view a collection of artifacts from early logging, farming and mining days.
Collins Pine Museum
500 Main Street, Chester, Free Admission, 530-258-2111
"The Collins Pine Museum was opened to the public in May of 2007. There is no admission fee and the museum is open from mid-May until mid-October, Wednesday through Saturday, 9:00 AM to 5:00 PM.
The building was constructed to look like the sawmill that was operated by Collins Pine Company in Chester from 1943 to 2001, after which it was replaced by a new sawmill. The post and beam construction inside provides an aesthetic space where the different species of wood grown in this area are featured. The mission of the Collins Pine Museum is to develop exhibits on lumbering, forestry and principles of sustainability. The building contains exhibits on lumber grades, forest stands, old photos and implements. Information is displayed on branch and cone identification, saw milling, lumber drying, power co-generation, sustainability and on how forest operations fit into the carbon cycle.
There is a small theater room set up so that when people enter, a documentary starts playing on sustainable forestry. A screen in the main part of the building can be activated to show a video of the sawmill operation. There is an interactive panel on wood species identification, a push-button audio unit with workers voices and a bookcase with books on local lumber companies, forestry, logging and environmental History. An outdoor display of trucks and equipment that was used by Collins in the 1940s, 50s and 60s is on site. Finally, a 400-year-old Sugar Pine tree cross section is displayed with dates in American history going back to the Jamestown colony (1607)." http://www.collinsco.com/Museum/
Greenville Cy Hall Memorial Museum
132 Main Street, Greenville 530-284-0927
The Greenville Cy Hall Memorial Museum is located in the 1870's Bransford-McIntyre dry goods warehouse on the corner of Mill and Main Street in the quaint mountain town of Greenville. The museum is dedicated to offering a series of lectures and presentations pertaining to Greenville and Indian Valley. History night at the museum is a series of educational presentations that highlights a particular decade of time in Greenville, and guest speakers come to share knowledge of particular events that happened at that time. The timeline wall highlights photographs and important events that happen in Greenville from all decades. You can see displays and artifacts from past years in displays. For information about what's happening at the museum go to the Museum's Facebook Page.
Indian Valley Museum
The Indian Valley Museum is located in Taylorsville, at the east end of Indian Valley. Go through town on Main Street to Cemetery Street and turn right. The main museum is the second building on Cemetery Street. The first building is the museum annex. The Museum is open from 1 – 4 pm, Saturdays and Sundays, Memorial Day through the last weekend in October, or by appointment. Free Admission, donations appreciated. 530-284-7785
The Indian Valley Museum houses many artifacts representing the period from the 1860's through the 1940's with Over 600 pictures on display showing life as it was in the valley. In the Mountain Maidu room there is an impressive collection of Maidu Indian baskets, arrowheads, and artifacts, is to be found in the Mountain Maidu Room. The bearskin featured in the local bear dance is on display there when not in use. There is also a Gem and Mineral Room that features Francis Musser's extensive collection of mineral specimens, fossils, rock carvings, and sculptures, are featured in the Gem and Mineral Room. The large Museum Annex contains exhibits of early logging, farming, blacksmithing, and the tools used in the pre-electric Indian Valley.  Also included is the first fire engine in the valley, a 1932 Dodge truck. http://www.indianvalley.net/iv-museum/
For a list of Museum's in Plumas County go to PlumasCounty.org