Horseback Riding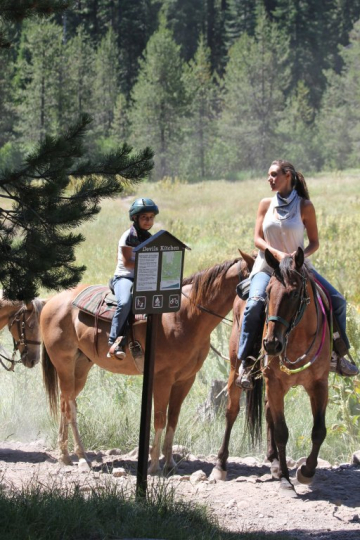 There are over 12 horseback riding and boarding stables in Plumas County. Several are located near Lake Almanor.
Drakesbad Guest Ranch
Drakesbad Guest Ranch in Lassen Volcanic National Park offers wonderful trails and opportunities for horseback riding. Rides there range from 45 minutes to 8 hours on trails taking in thermal sites, femeroles, mud pots, beautiful meadows, forest, creeks and outstanding scenery.  Lunches and pony rides are also available. Drakesbad is usually open the first weekend of June through the second weekend of October. .
All rides are open to the public by reservations only. Call 866-999-0914 or for more information check out their site at Drakesbad.com or call
Riding in Lassen Volcanic National Park
Horseback riding is allowed in Lassen Volcanic National Park.  Horses are allowed on all designated trails  except: Manzanita Lake Trail, Lassen Peak Trail, a portion of Cinder Cone Trail, Reflection Lake Trail, Bumpass Hell Trail and trails within Devil's Kitchen and Sulphur Works.
Horses are not permitted to travel cross-country while in the park. Horses are prohibited in picnic areas or campgrounds. Stock parties camping overnight are restricted to one of the designated sites at Summit Lake, Corral & Butte Lake Hitching Posts or Juniper Lake Corral.
Horseback Riding Trails around Lake Almanor
Horseback riding trails available around Lake Almanor and the surrounding area and include the Caribou Wilderness area with trails starting at Hay Meadows, the Bizz Johnson Trail, an 18 mile segment, that runs along the Susan River from Westwood to Susanville with eleven bridges and two tunnels which are passable on horseback.
The Pacific West Trail
Heading south on the Pacific West trail from Highway 36 the trail crosses Soldiers Meadow and climbs Carter Mountain. North, about 7 miles, the trail leads to Stover Springs which is used as a yearly staging area for endurance rides.
Plumas Pines Riding Stables
Located behind Plumas Pines Resort at 300 Almanor West Drive is Plumas Pines Riding Stables. Open from Memorial Day Weekend until Labor Day Weekend Plumas Pines riding Stavlves has one hour to 90 minute trail rides and pony rides as well as overnight trips and pack trips. Call for reservations (530) 259-5170
Plumas County
There are many other horseback riding opportunities in Plumas County.  These can be found at PlumasCounty.org.