Biking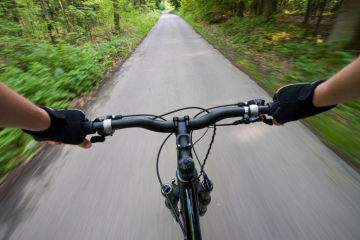 Enjoy the fresh mountain air of the Lake Almanor Basin and Indian Valley. With our spectacular scenery, lack of cars and a multitude of routes paved and unpaved routes, our area has become a favorite of biking enthusiasts everywhere. Join an event, take your bike around the Basin, up a mountain trail, across beautiful Indian Valley or onto a paved road in Lassen Volcanic National Park. You won't go wrong anywhere!
Events:
In June of each year the Lake Almanor Basin hosts the Mile High 100 Bike Ride, one of the largest bike events in the north state,
In October Indian Valley hosts the beautiful Leef Peepers Century Bike Ride where cyclists bike through Autumn color in Northern California's most diverse scenic wonder
Biking Trails:
Last Chance Loop
Distance 12 – 14 miles
Effort: Easy
Average Ride Time: 1.5 hours
This is mostly a flat loop around the upper reaches of Lake Almanor and Lower Last Chance Creek. It includes three miles of pavement and 9 to 12 miles of gravel road. From Chester, bike east on Highway 36 across the causeway, and make a left at PG&E's Las Chance Creek Campground Road. After the campground, continue west to Walker Road, cross Benner Creek, and continue to Juniper Lake Road. Continue on the gravel road to Warner Valley Road. A left onto the pavement returns you to Chester.
Lake Almanor Recreation Trail
Distance: 15 miles
Effort: Easy
Average Ride Time: 1.5 hours (one-way)
This route combines a four-mile stretch of old Highway 89 with the new U.S. Forest Service trail along the west shore of Lake Almanor. Begin the ride at the Cedar Chalet Bakery, two miles west of Chester on Highway 36, and head south on old Highway 89, which parallels present Highway 89. Make a left at the intersection with Humboldt/Humbug Road (County Road 309),crossing over new Highway 89. This road intersects with the forest service trail, which ends at the Canyon Dam Boat Launch.
The Bizz Johnson Trail
Distance: 25 miles
Effort: Easy
This 25 mile trail was once the roadbed of Southern Pacific's 130 mile Fernley and Lassen Branch Railway, and has been converted to a riding and hiking trail. Echoes of the old steam engines pulling their loads of logs and lumber past logging camps and depots will be your companions as you explore the rich history along the trail. You can pick up an Interpretive Trail Guide and Map at the Lassen National Forest Ranger Station in Chester.
Bike Rentals: Bodfish Bicycles & Quiet Mountain Sports 149 Main Street, Chester 530-258-2338